ALPAO Deformable Mirrors (DM) are based on continuous reflective surface motioned by magnetic actuators. They feature large strokes, high dynamic motion and an excellent optical quality to meet and exceed your requirements for fast and accurate wavefront correction.
• Settling time as low as 400µs at +/10%
• Active best flat as low as 7nm RMS
• Up to 90 µm optical deformation (peak to valley): to correct large amplitude aberrations

• Up to 5.0µm optical deformation (inter actuator): to correct high spatial-frequency aberrations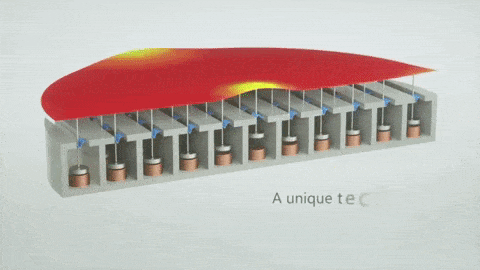 This adjacent animation shows our unique technology with membrane, coils, magnets and springs. By applying a current in the coils, the magnets are moved up and down to deform the membrane.
Click here to discover our fitting simulator
Let's focus on your needs:

• More actuators? Up to 64×64 is available.
• Large quantity? Ask for our low price OEM DM.
• Faster or larger stroke? Every parameter can be customized.
• A larger pitch for a larger pupil? Ask for your DM.
• High-stability option? For open-loop performances.

Deformable Mirrors - ALPAO
ALPAO Deformable Mirrors are based on continuous reflective surface motioned by magnetic actuators. HIGHLY DYNAMIC MOTION - OPTICAL QUALITY - LARGE DEFORMATION